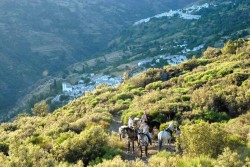 Cabalgar Rutas Alternativas is a leisure company with 20 years' experience, based in the village of Bubión in the heart of the Alpujarras, south of Granada.
We invite you to move on from a traditional, passive holiday to a more active and interesting experience, discovering places of hidden beauty in a spirit of fun and adventure. For this, we propose to travel in the old style: on foot and on horseback.
Our main activity is horse-riding. We organise rides by the hour and, particularly, treks of several days on the southern slopes of the Sierra Nevada. We also run incentive trips for companies, including mixed programmes in jeep and on horseback, picnics and visits to the most interesting places in the area such as museums, artisans' workshops, wine bodegas and serrano ham curing establishments.
For groups with a minimum of 4 people, we offer tailored treks to suit your preferences. Do not hesitate to contact us in order to let us know the type of route you are interested in.