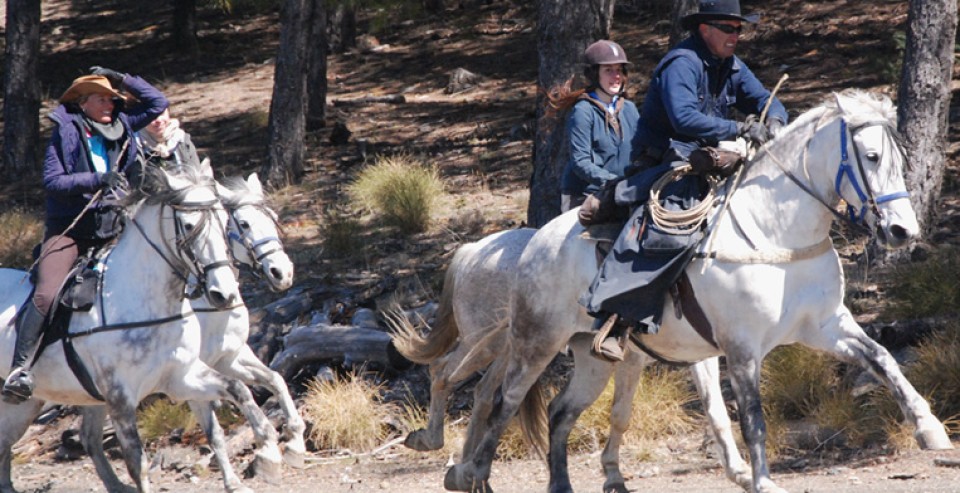 DAY 1. CAPILEIRA. Welcoming in the Alpujarras region and introduction of the guide. Dinner and accommodation at the hotel Finca Los Llanos*** in Capileira.
DAY 2. BUBIÓN – TREVÉLEZ. Drive to the riding centre in Bubión (2 Km away from Capileira). Introduction of the horses. We will start by climbing up along bridle paths through the Blood Ravine to the track that leads us to Trevélez with views of the villages of the Poqueira and La Taha Valleys. Picnic en route. During the ride there are some opportunities for gallops with a magnificent panoramic view of the Sierra Contraviesa and Lújar opposite us. Descend to Trevélez by a bridle path where we will arrive in time for some beers with tapas. There will be the opportunity to visit some of the ham drying houses of Trevélez, famous for its hams and considered the highest village in Spain at an altitude of 1,700m. Dinner and accommodation at the hotel La Fragua **. A five hour ride.
DAY 3. TREVÉLEZ – LOS BÉRCHULES. After crossing the bridge over the river, we will start this route by a bridle path that climbs the left slope of the ravine, leaving behind the village from which it takes its name. Riding down to Los Berchules by a track.  Picnic on the way. Once again we will enjoy the beauty of the  Sierra Contraviesa and Sierra Gádor, this time in the province of Almería. On a clear day we will have the view of the Mediterranean Sea and the silhouette of the mountains of Africa in front of us. Arrival to Los Berchules by a bridle path. Dinner and accommodation tonight in a very comfortable, family-run hotel – El Cercado***. Option for Spa services. Four and a half hours riding
DAY 4. LOS BÉRCHULES – CÁDIAR.  From Los Bérchules, we will descend to Narila, where   we will stop for water the horses and visit a breeding farm of P.R.E. (Spanish Pure Breed) horses. The ride passes through Cádiar village and we will finish the ride at the beautiful hotel Alquería de Morayma**, where we should arrive just on time for lunch. Three and a half hours riding. Dinner and accommodation at the hotel.
DAY 5. CÁDIAR – BUBIÓN. Crossing the Guadalfeo river, we will join the path that will lead us to Lobras, Nieles and Càstaras. We will continue until we reach the impressive gorge of Las Carihuelas de Busquístar, where we will descend to cross the Trevélez river, and we will follow the path which leads to the village of Busquístar for lunch. After lunch two more hours riding to Bubión. A six hour ride. Farewell dinner in a local restaurant and accommodation at the hotel Finca Los Llanos*** in Capileira.
DAY 6. After breakfast, we say goodbye.